Saving money on boiler repairs vs Safety

At the time of writing this post, times are tough just as we start to see light at the end of the tunnel from Covid we are now all faced with the rise in the cost of living, inflation rising, fuel the highest it's been in years and with the horrific acts by Russia on the Ukraine which our in prayers, its worrying times for everyone and not just financially.





Concerns
Everyone is looking at ways of saving money and with a few customers contacting us to fit second hand parts they have purchased from an online auction site and reconditioned parts purchased off the internet has led us to write this post.
Genuine parts
When it comes to replacing a part on your boiler, Sunrise Plumbing and Heating will only fit new genuine manufacturers tested and approved parts from local merchants that only supply genuine approved parts from the likes of Baxi, Worcester Bosch, Ideal, etc we source our parts locally and we have an excellent relationship with our merchants and if the part is not on the shelf 90% of the time they will source it for us the following day.

All boilers are not same
When it comes to ordering parts there is a GC number that identifies your boiler to exact part required, once the Gas Safe engineer gives the merchant the GC number off boiler they are able to then identify the exact genuine part required to fit your boiler.
Would you fit second hand Ford 2001 KA brake pads to your Ford 2014 Mondeo?

No, so why be tempted to fit non genuine gas spares
But I can save a fortune getting parts off the internet

We are often asked why customers can purchase boiler parts of the internet for less than half the price we can get them for, the answer is pretty simple if the savings seem to good to be true then there is probably a good reason why, either the part is reconditioned, second hand or a counterfeit boiler spare.
Ask yourself would you be happy driving your family about in your car knowing you had used cheap second hand, counterfeit, or reconditioned or brakes on your family car?

Please stop and think!
Genuine parts will be fully compliant with Gas Safe Regulations, protecting you, your family and your home.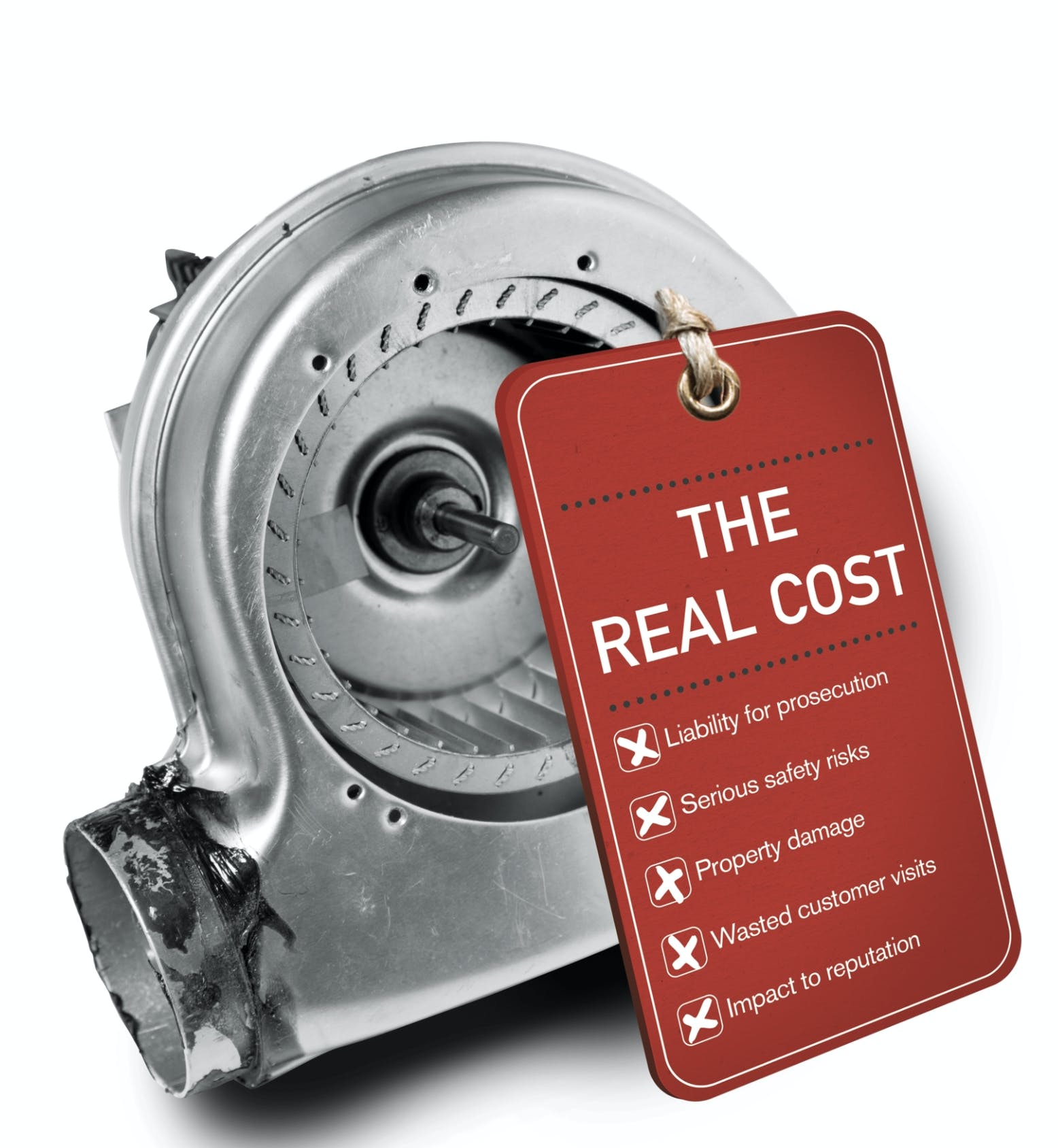 Genuine parts will give you
Quality
Parts supplied from our merchants are genuine quality parts, that have undergone rigorous quality control standards for your peace of mind.
Reliability
Genuine parts may cost more but will almost certainly last longer.
Safety
Counterfeit or reconditioned parts being installed into your boiler could make a crucial difference to the safe running of your boiler, manufacturers are demanding action to be taken on the use of substandard parts this isn't a way to boost thee sales of their own parts they want action taken as concerns that there are critical safety issues to property and life to consider by using counterfeit or reconditioned parts not to mention the legal implications being breached by using counterfeit or reconditioned spares.
Sunrise Plumbing and Heating will only fit genuine parts, we will not fit any parts we can not verify the authenticity of. At the end of the day we have to go home knowing the parts installed in your boiler are safe and more importantly you and your family are safe.
Please contact us if you require further information on 01527 576595 or 07428628790
We supply and fit genuine Baxi and Worcester Bosch parts in Bromsgrove Worcestershire and also cover the surrounding areas such as:
Redditch

Droitwich

Wychbold

Bellbroughton

Fairfield

Stoke Prior

Stoke Heath

Aston Fields

Sidemoor

Catshill

Hanbury

and Chaddesley Corbett to name a few
Services we offer:
Worcester Bosch repairs Bromsgrove

Baxi repairs

Bromsgrove
Worcester Bosch spares

Bromsgrove

Baxi spares Bromsgrove

Worcester Bosch breakdown engineers Bromsgrove

Baxi breakdown engineers Bromsgrove

Worcester Bosch Gas Safe engineers Bromsgrove

Baxi

Gas Safe engineers Bromsgrove

Worcester Bosch Bromsgrove

Baxi Bromsgrove

New Worcester Bosch boiler fitted Bromsgrove

New Baxi boiler fitted Bromsgrove